Remember last month when I wrote my
list
about my dream dinner party? Well, that list has been a major topic of discussion between my husband and I for weeks! Will critiqued some of my choices, and celebrated others. He laughed about some, and scowled about a couple. And with all this talk about my dream dinner guests, I couldn't help but wonder.....who would Will's dream guests be? So for the last few days, Will's been working diligently on his guest list. I now present this blog's very first guest post, by my sweet husband Will:
1. Of course myself at one end of the table, as Ashley said. This is at our house you know! I like to be at the head of the table, anyway. I enjoy seeing everyone and watching their interactions with one another.
2. I bet you can guess who I would have at the opposite end of the table from me? Well of course. The most lovely wife and mother in the world! Drum roll please! Mrs. Ashley N. Beadle.
3. Beside Elvis, I would seat Jim Morrison. He has always fascinated me. I would love to hear his stories; from his early childhood, up until his death. He's strange, but definitely one cool and interesting guy.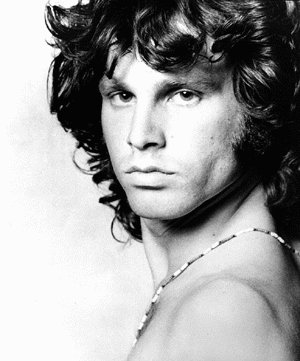 4. Next to Michelangelo, I'd seat Vincent Van Gogh. I have been mesmerized by his paintings for as long as I can remember. When I was a little bitty boy I cut Starry Night out of a book and hung it proudly in my room. I am not sure what drew me to that picture....If I had to guess it would be the beautiful colors and the swirley stars.
5. To be beside Lucy, I would invite Andy Griffith. I have always enjoyed The Andy Griffith Show. I just love the ways of Mayberry. Maybe he could even bring goofy Barney Fife! If Andy coulnd't make it, I'd definitely ask the good ol' Duke boys from Hazard County. I use to drive my miniature General Lee all over the back yard as a young boy.
6. Next, Jesus. I mean how could you not invite Him? He sacrificed himself for all of us. He does his best to lead us down the right path.
7. I would invite Jennifer Aniston; Ashley has her eye candy actor, Gerard Butler. So Jennifer Aniston would serve as my eye candy actress.....besides, she and Gerard Butler seem to get along pretty well!
8. I would have to just stick with Ashley's choice of comedian, Conan O'Brien. We love CoCo at our house!
9. To sit beside Audrey Hepburn, I would invite James Dean. My barber is a huge fan, and ever since my childhood I have gone to get my haircut by him. I have always admired his pictures of James Dean that decorate walls. I always think to myself, 'this is one cool dude'.
10. Beside Drew Barrymore would be Jim Carrey. With his explosive personality, h
e would be a fun addition to any party.
11. For my president, I would choose Abraham Lincoln. He is
one of my favorite presidents. As a child, I think it was his tall, top hat that drew me to him. As I got older, I respected all that he did for our great country. Can you think of some of the stories he could tell? He would be a wonderful source of conversation.
12. Lastly, my grandfather A.I. Beadle. I miss his character and wit. He was full of great advice, and had a great since of humor. He taught me so much about work ethic, and standing proud of things you believe in.